The Confederation of African Football (CAF) has disqualified the Chadian national team from the rest of the 2021 Africa Cup of Nations qualifiers, with two games left.
They were expected to take on Namibia on Wednesday and later travel Bamako to face Mali on Sunday.
Chad could be banned from world football after the country's Minister of Youth and Sports dissolved the football federation.
This is against FIFA's regulations and could attract a severe sanction, including an outright ban from all international football activities.
A decision from the Chadian Minister of Youth and Sports withdrew all powers from the Federation of Chad Football Associations (FTFA), through an official communique on March 10th 2021.
The Ministry had previously made a request to FTFA to provisionally withdrew its mandate in December 2020, but FTFA did not yield to the request.
"By the definitive withdrawal of this delegation of powers, it is formally forbidden for the (FTFA) to participate in the various international meetings … and to organize or participate in any other national or international competition or event on behalf of Chad," the ministry's statement explained.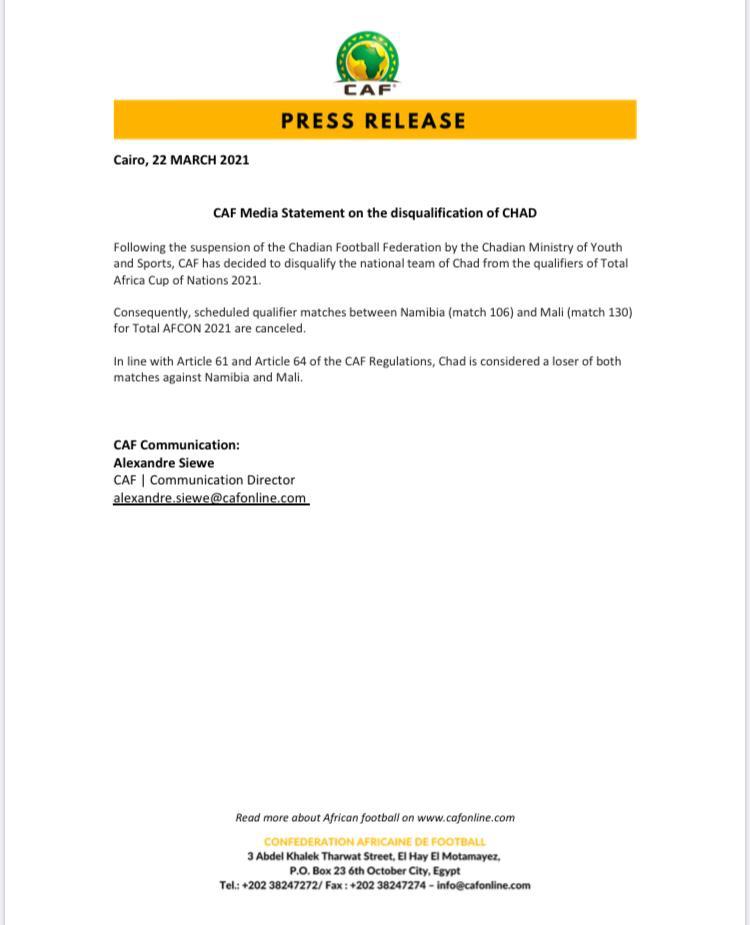 Chad no longer has a chance to qualify for the 2022 Africa Cup of Nations to be played in neighboring Cameroon.
However, they are still programmed to play their two last qualification games in Group A at the end of the month of March.
The Sao currently have one point from their first four games, behind Mali on 10, Guinea on eight and Namibia on three.
Edward MUAMBO