CAF-FIFA inspection mission in Cameroon.
The members of the joint CAF-FIFA inspection mission, visiting Cameroon in view of the next African Cup of Nations, hail the quality of the facilities in Garoua and Bafoussam, but showed less enthusiasm in Yaounde.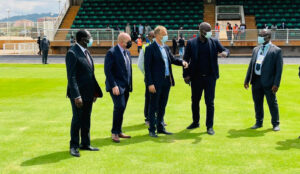 CAF and FIFA experts are satisfied with what they have already seen in Cameroon as part of their inspection mission of the sites selected to host the African Cup of Nations from 9 January to 6 February 2022. They praised the quality of the facilities located in the host cities in the North and West of the country.
'' We are very happy to be on the ground with CAF and the Local Organizing Committee," said Jaime Yarza Gonzalez, one of FIFA's representatives. '' In Garoua, from what we have seen, the stadiums are of exceptional quality. For such an important tournament for Africa, we hope that all the facilities are like here.''
The head of mission, who is also CAF's deputy general secretary, shares the same enthusiasm. "I am a former footballer and when I enter a field, the first thing that interests me is the pitch. I am happy with what I saw in Garoua," said Anthony Baffoe. '' Everything is top notch, whether it's the main pitch (Roumde Adjia, editor's note) or its annex. The facilities are just fantastic.''
Adjustments in Bafoussam
On Tuesday 25 May, the team of inspectors went to Bafoussam. Divided into three groups (stadiums, hotels and hospitals), the emissaries of African and world football's governing bodies reviewed the infrastructure of the West Cameroon region.
In this city, the host country of the competition has also scored good points. The main stadium of the Kouekong, which will host some matches, is operational. The same goes for the four annexed training grounds. According to information, a new training ground for two teams is under construction in the Tagidor complex in Bangou. Another training ground is being finished in the town of Bafang, we are told.
Doubt persists at the Olembe complex
The only downside for Cameroon is that after visiting the Olembe sports complex, the CAF and FIFA experts did not show the same enthusiasm as in Garoua and Bafoussam. The infrastructure, supposed to be the symbol of the competition, is far from being completed. On the site, it is a race against time. At least 800 workers are working long hours.
Initially, the Olembe complex was supposed to be delivered before the CAN 2019, but the construction site is lagging behind. To the point where many commentators fear that the delivery deadline of November 2021 will not be met. This suggests that the Ahmadou Ahidjo stadium could be a plan B.
The joint CAF-FIFA mission ends on May 28.
Philemon MBALE