Football: Kenya to host African Football Business Summit.
A Football South East trade wind is blowing across the horn of Africa. After the Tanzanian Football Summit 2022, here comes another promising continental gathering, The Africa Football Business Summit 2022 to be held in Nairobi, Kenya's capital city. Running through the 18-19 of October, 2022.
Powered by the Football Foundation for Africa FFA, an international social enterprise that seeks to drive investment in grassroots development in Africa within the sports industry, the summit has as objectives:
Provide a platform for Africa's football (Sports) management community to discuss the future of the game on the continent.
Bring together stakeholders from government, private sector, academia to understand the football ecosystem and explore synergies and collaborations to develop football across the continent.
Provide opportunities for academies, clubs and others to showcase their work, share knowledge and source for investment.
Unite Africa behind the five teams that will be representing the continent at the FIFA World Cup 2022 among others.
Participants will be drawn from across the world but with a common interest in developing football on the African continent. The summit will use conference format with keynote speakers, panel discussions and workshops across four major themes;
Leadership and Governance
The Business of football
Grass root Football Development
Events and Infrastructure Development.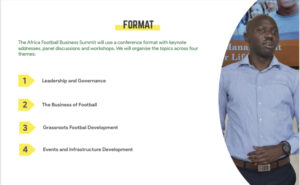 The project leader Brian Wesaala has expressed desires to make this event a global melting pot for the development of football in Africa. From his choice of speakers and a formidable team of 14 organizing members, attendees will be thrilled not only by the contents of the summit but also by Kenya's cultural diversities.
Speakers have been drawn from all walks of life from Sports Lawyers, Football Development Managers, Club CEOs, Soccer agents and many more.