After two losses in a row, DUC is back on track in the Sahara Conference of the BAL. The Senegalese team beat (92-86) Rwanda Energy Group (REG), this Friday, March 11, for the third day of the qualifications. The students could count on a huge Adama Diakité (30 pts, 11 rebounds), MVP of the game.
With this victory, the DUC can keep the hope of qualifying for the second edition of the BAL. But the road to Kigali (Rwanda), host of the competition, is still long and difficult. Indeed, in front of the Students are two big names: US Monastir (Saturday 12) and AS Salé (Tuesday 15).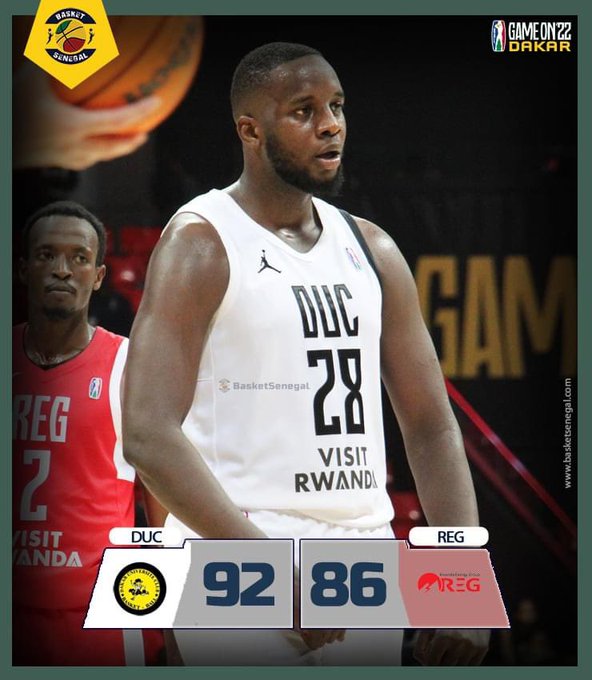 Despite the setback, REG remain second in the standings. And, above all, still in the race for qualification to the second edition of the BAL at home.
In the first game, US Monastir outclassed (96-90) AS Salé. A third success in a row that allows him to keep the lead in the ranking and validate his ticket for the finals before the end of the qualifications.
RESULTS
AS Salé vs US Monastir : 90-96
DUC vs REG : 92-86
SCHEDULE (GMT)
Saturday 12th March
Dakar Arena
2pm SLAC vs Ferroviario Beira
5:30 US Monastir vs Duc
RANKINGS
1st US Monastir (6 pts +33), 2nd REG (4 pts +6), 3rd AS Salé (4 pts +1), 4th SLAC (4 pts -8), 5th Duc (4 pts, -15), 6th Ferroviario (4 pts -11)