The French Ligue 1 is back in action this Friday, August 6. To the delight of football fans and like every year, many Africans will play their part in the French championship. Among them, Sport News Africa has compiled a list of eleven players from the continent to follow closely this season.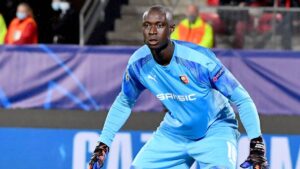 Alfred Gomis a perfect replacement for Mendy
It's never easy to replace a goalkeeper like Edouard Mendy, who left Ligue 1 side Rennes for Chelsea in the winter transfers last season. His Senegalese compatriot Alfred Gomis has been limiting the effects of Mendy's departure.  The proof is that the Breton club finished as the third best defense in Ligue 1 during the 2020-2021 campaign. A result that is partly due to the 28-year-old Senegalese keeper.
Despite this, Alfred Gomis is still not convincing at Rennes. The former Dijon goalkeeper, who joined the club in September 2020 for €16 million, has been criticized for being too shaky on his line.
The ten goals he has conceded in the club's five pre-season games recently have not helped to silence the criticism of his status as the number one goalkeeper in the squad, which has been called into question by Breton fans. However, Alfred Gomis still has the confidence of his managers and his coach too. The club's president Nicolas Holveck recently gave his support to the player in the columns of L'Equipe.
"We have Alfred and Romain Salin, in this position (goalkeeper) we are ready. Alfred arrived with us injured, it was not easy for him. But in the end we have the third best defense in the league (40 goals conceded), which shows the quality of his performances. Bruno Genèsio, the Breton coach, for his part, does not mince his words: "Alfred Gomis is the number one goalkeeper in the team." This has the merit of being clear. It now remains for Edouard Mendy's successor to reassure everyone.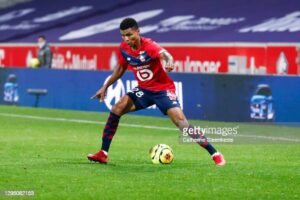 Reinildo Mandava's  season of confirmation
The past season has been a great success for the Mozambican international Reinildo Mandava. Crowned French champion with LOSC, the defender showed all his qualities in the game throughout this campaign. Solid in duels, but also with a good reading of the game and a good left footed recovery, Mandava has given the Dogues great satisfaction. Sport News Africa had included him in its list of the three best African players of the 2020-2021 Ligue 1 season.
For this new campaign, the 27-year-old will have to confirm all the good things that are already said about him. The recent winner of the Champions Trophy against PSG (1-0) will also have to improve on certain aspects of his game, particularly in attack. Indeed, if Reinildo offers great assurances in defence, the player does not bring much in attack. He did not score a single goal last season in L1 despite playing 2186 minutes. Not a single decisive pass either. An anomaly for a fullback in modern football. It is up to him to show that he can overcome this limitation this season.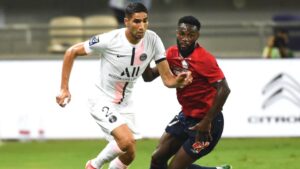 Achraf Hakimi, the new Parisian gem in Ligue 1
His career has soared. In just a few years, the Moroccan international has convinced everyone of his talent. Trained at Real Madrid, the 23-year-old right-back notably revealed himself at Borussia Dortmund where he played between 2018 and 2019. In one season, Achraf Hakimi has made the happiness of Inter Milan, winner of the Serie A last season after 11 years of disuse.
Quick and very comfortable with the ball, Achraf Hakimi is a modern right-back capable of scoring goals and providing a host of assists. His statistics sometimes even rival those of many strikers in Europe. His numbers speak volumes about his offensive contribution: 12 goals and 17 assists in 73 games played for Borussia Dortmund (TCC).
In Serie A, a league with a reputation for being tough and highly tactical, the Moroccan will remain in the same league. In 45 games played for Inter, Hakimi has scored seven goals and provided 11 assists. So how could he fail to stir up the transfer market? Desired by a number of major European teams, he is now at ... PSG.
Achraf Hakimi, a star among stars. It is true that Paris Saint-Germain already have Neymar, Mbappé, Di Maria and Verratti, but there is no doubt that the Moroccan right-back will be a star among these stars.
When he arrived at Clermont in 2018, Vital N'Simba made no secret of the fact that he wanted to be a team leader. "My objective is to play. I don't come here to be number 2. I come here to play my chance. I want to be a starter and I'll do everything I can to get there," said the 25-year-old defender at the time.
Three years later, the Congolese international has done more than just get a starting place, he has greatly contributed to the club's rise to L1 last season. With 4 assists to his name. The "Leopard" will now experience his baptism of fire this season in the elite echelon. Will he be able to meet the challenge? In view of his technical and athletic qualities but above all his leadership, there is little doubt about it.
The player trained at Bordeaux and then passed through Guingamp and can boast of a little mastery of the French lifestyle. This has earned him the status of an executive in the Clermont-Ferrand dressing room. But for his new experience in the elite of French football, Vital N'Simba will have to keep the pace because in L1, with Mbappé, Neymar and others, things go faster.
Philemon MBALE