Between players at the end of their contract and others who want to leave their current clubs, many Africans are struggling to attract other teams. For various reasons, they want another challenge but nothing for now. Sport News Africa offers you eleven players from the continent who are in the lot.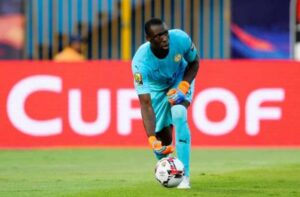 Alfred Gomis has been a regular starter since his arrival at Rennes in 2020, but he has seen the arrival of a bigger hand in Ligue 1 during this mercato. Rennes has indeed recruited Steve Mandanda, former goalkeeper of OM. The Senegalese goalkeeper will have to make do with a substitute status...or ask to leave. Because, less than four months before the World Cup in Qatar, the places will be expensive in the group of Senegal.
At for the moment, no club really seems to offer a hand to Alfred Gomis in this mercato. Even if the journalist Benjamin Quarez claimed a month ago that an English club wanted the 28-year-old goalkeeper, nothing concrete is on the table.
Serge Aurier still on the sidelines
Serge Aurier has played in Toulouse, PSG, Tottenham and Villarreal. And each time, he has made proud services to his clubs. Nevertheless, there is no rush to the door for him in this mercato 2022. Free of any contract after his Spanish experience, the Ivorian fullback has still not found a suitable match.
However, Galatasaray seemed interested in his profile. However, since mid-July, the track still does not move.
Cheikhou Kouyate, free as agent
African champion with Senegal last February 6, Cheikhou Kouyate has just completed a fourth season with Crystal Palace. The midfielder, sometimes central defender, has been an important element of the device of Patrick Viera. He played 31 games in all competitions, including 27 as a starter (1 goal, 1 assist). However, the 32-year-old player knows a more or less unexpected mercato.
With his experience of eight seasons as a starter in the Premier League (West Ham and Crystal Palace), the mercato of Kouyaté still does not move. This, while he is free of any contract. His age, as well as his salary of nearly 300,000 euros per month at the Eagles, would perhaps cool the suitors.
Saliou Ciss, beautiful AFCON but without club
At the AFCON 2021 in Cameroon, Saliou Ciss was undoubtedly one of the satisfactions of Senegal. While he was not expected, the left-back was instrumental in the conquest of the first continental title of Senegal. One would have thought that clubs would go to war for him. He is also free of any contract after his departure from AS Nancy-Lorraine, his name is circulating in Turkey. Nothing concrete so far.
Seko Fofana blocked at Lens
For the case of the midfielder from Lens, the matter is quite interesting. Very successful last season and winner of the Marc-Vivien Foé Award, Seko Fofana was supposed to leave Lens in the summer of 2022. But the situation seems to be different. Some media had talked about an interest from PSG. But the price asked by Lens (40 million euros) would have made the Parisians run away. Since a few days, some French media speak about an agreement with OM.
The transfer window entering its final month, clubs interested in Seko Fofana must quickly move their pens. Since a midfielder of his caliber is not found at every corner.
Selim Amallah, despite desires to go elsewhere
"I want to change my horizon and I hope that it will be concluded. This sentence of Selim Amallah says a lot. The Moroccan midfielder wants new adventures after four seasons at Standard Liege. He has a preference for the Spanish Liga. Amallah also has the advantage of having only one year left on his contract with the Belgian club. His price should not be inaccessible for some teams who want to strengthen during this mercato. Nevertheless, he is still at Standard. He even played the first two games of the Jupiler Pro League.
Ismaïla Sarr, the price of inconsistency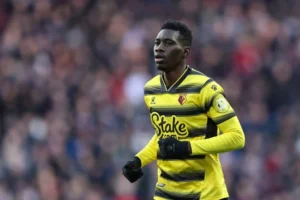 Announced to leave at each mercato, Ismaïla Sarr seems to be stuck in Watford. The Senegalese winger had a good price on the English market in previous years. Arsenal, Liverpool and Manchester United seemed to want to buy him. However, these clubs have turned to other names. Probably slowed down by the inconsistency and injuries of the player. According to Foot Mercato, Leeds could pounce on the player. The Peacocks are looking to fill the departure of Raphinha. Watford on its side is waiting for 35 million euros to let him go.
Maxwel Cornet doomed to play the Championship?
In the mercato 2021, Maxwel Cornet made the big jump. The Ivorian international left Ligue 1 for his first experience abroad. He then signed in the Premier League, in Burnley. One successful season later (9 goals and 1 assist in 26 games), his club experienced relegation. His club set his price at 21 million euros. Everton has felt the ground, but the Toffees want a loan while the Clarets hope for a transfer.
Nicolas Pépé in the Gunners' cupboard
By leaving Lille at the end of the 2018-2019 season (23 goals and 12 assists), Nicolas Pépé was seen as one of the new faces of African soccer. Three years later, the Ivorian is in a dead end. He only made 8 starts last season, and 23 appearances in total for 3 small goals. His mercato is still not moving. This, while he himself seems determined to impose himself at the Gunners. "I worked hard during the summer. It changed a lot of things. I am focused and determined with Arsenal and my teammates," he said recently.
Wilfried Zaha in a strong position, but...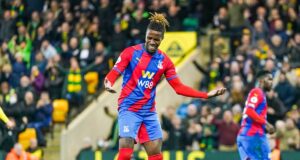 Another Ivorian, another great dribbler, but not for the same reasons. Wilfried Zaha has had several successful seasons at Crystal Palace. The winger scored 15 goals in the 2021-2022 season. He wants to leave. Reason why he refused all offers of extension of his leaders. At the beginning of the mercato, Tottenham seemed interested. As well as AS Roma in Italy. But for now, he should start his eighth season at Palace this weekend weekend.
Emmanuel Dennis, still at a standstill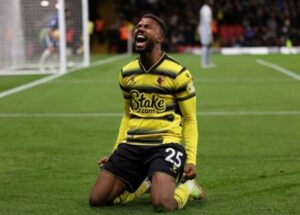 The Nigerian international has scored 10 goals and distributed 6 caviars in 33 Premier League games. A more than honorable season despite the relegation of Watford. A profile that could do a lot of good to many clubs during this mercato. The 24-year-old striker also seems to be condemned to play in the Championship with the Hornets.