Cameroon's Football body FECAFOOT and the Cameroon Radio Television the CRTV Sports and Entertainment now have a broadcasting deal. This means that Elite One and Two top matches of the week will be broadcast live on the national station's sports arm.
Seidou Njoya, president of FECAFOOT and Charles Ndongo, the Director General of the channel signed this deal on Friday April 16, 2021 in Yaounde.
The highly welcomed deal will go a long way to satisfy football lovers in Cameroon and beyond as highly rated games will come live from the pitches with commentaries in both English and French.
FECAFOOT on their part greatly appreciated the move as the broadcast of live matches could catch the interest of some potential sponsors for the league, while creating much needed content for the national broadcaster.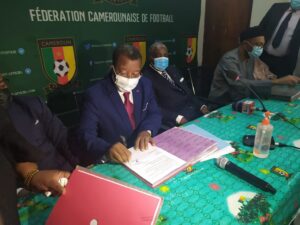 "The CRTV and Fecafoot, which are important institutions of the Republic, have decided to seal their fates together. On the Fecafoot side, we know that Crtv needs the content, to furnish its programs. Today, we must also understand something that is important, a television, whether national or private, needs content. Tradition has it that television will become popular because it offers content, leisure, football, are necessary for national television. And sport has to be what brings people together, football in particular.". Said Seidou Mbombo Njoya.
Charles Ndongo also gave some specificities of the two years deal .
'' Exclusive audiovisual and non-exclusive internet rights, broadcasting of the National Elite One and Two Championships, the Guinness Super League and the Cameroon Cup (...) Crtv will produce and broadcast the matches of the various major competitions. By choosing Crtv as the major broadcaster of football at the local level, you have rightly seen, we are the best in this matter. Beyond the equipment that we are the only ones to have today, we also have as you know for 2 years, a channel dedicated to sport, Crtv sports and entertainment. We are the most complete media, the most efficient, the most even to give you the best exposure possible. ."
CRTV Sports and Entertainment has previously broadcasted Elite One matches as well as CAF Confederation Cup matches involving Coton Sport of Garoua but this time, viewers will get the luxury of watching other top flight teams play as well as Women football.
SNA in Cameroon