The National Elite one and two football championships in Cameroon are on a stand still owing to clubs refusal to play without financial subvention from the government but the Cup of Cameroon which is a highly cherished crown in the country, entered the round of 16 games with some household names seeing the exit door this Saturday.
The most shocking of the results is the defeat of 2017 cup winners Eding Sport of Lekie, who were ousted by a team from the fourth division level, Options Sports Academy fc of Limbe.
A first half goal from the regional league side made all the difference in the encounter. The elite one club and winners of the same competition four years ago could not find a way back into the game.
A highly anticipated game between record cup holders Canon of Yaounde and current league holders PWD of Bamenda ended in favor of the team from the Northwest Region. A solo goal eliminated Canon at the round of 16 this Saturday.
Another surprise package was served by Ecole de Football des Brasseries du Cameroun. The academy side white washed YOSA of Bamenda at the round of 32, 4-0. This Saturday, the team from the regional league dismissed Leopard de Yokaduma 5-0 to reach the last 16 teams.
Coton Sport of Garoua used Saturday's game to prepare their CAF Confederation Cup semi finals against JS Kabylie by dismissing Mintack fc de Nanga et Boko 4-0.
A top tier clash between Union of Douala and Panthere du Nde ended 1-1 after regular and extra time. Union had cooler nerves than Panthere during the eventual penalty series. The team from Douala who are struggling in the league can count on the Cup of Cameroon to rekindle their season. The winner of the competition will represent Cameroon in next season's CAF Confederation Cup.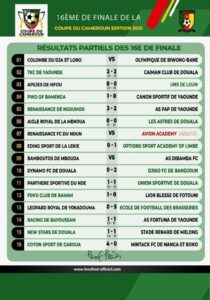 SNA in Cameroon