There are many players with African roots who are currently playing at Euro 2020. Some are outstanding stars, others are less so, but they are still making their marks with their European teams, like Wales with Ethan Ampadu.
A competition with a cultural mixing, you can find a Lukaku in Belgium, a Pogba in France, a Gnabry in Germany, a Kamara in Finland... So an Ampadu in Wales, it should hardly be surprising. Ethan, as his first name is known, is currently the delight of the Red Dragons' defense.
The 20-year-old could have played for Ghana because of his father, Kwame Ampadu's, origins (editor's note: his father played for Ireland), but he chose the nationality of his Welsh mother. He was born in Exeter, England, on 14 November 2000. Whatever national colour he defends, Ethan is a sure thing in Welsh football. At just 20 years of age, he has already won 26 caps alongside star player Gareth Bale.
A versatile defender who can play in the center of the park as well as in defensive midfield, Ghana had the player on their radar. The country of his roots had failed to naturalize him. Even though Ethan made his first appearance for Wales in a friendly against France in 2017. The son of former professional footballer Kwame Ampadu was still eligible to represent Ghana. This is because friendlies do not prevent a player from changing national teams, according to FIFA rules.
However, Ghana's hopes were dashed when the current Sheffield United (English Premier League) defender played his first official match at the age of 17 against the Republic of Ireland (4-1 victory).
Experienced despite his young age
It looks like Ethan has lasted in the professional circuit. Especially since 2017, he has become an international and has known very big clubs like Chelsea, yet, the Welshman is only 20 years old with a solid international background. Twenty-six matches played for the Dragons, at this rate, he could well break the 100-cap mark. If he is obviously spared from injuries or poor form at club level. The starlet has a humble and calm demeanor off the pitch. When he is on the pitch, however, his posture changes dramatically. He harangues and displays unparalleled physical power. Impressive leadership qualities that convinced Antonio Conte, the then Chelsea coach to include him in his senior team in 2017.
In the history of Chelsea at 16
The year 2017 was the season of records for Ethan. The youngest player to play an international match for Wales at 16, he was also the youngest player to play a league match for Chelsea against Huddersfield on 12 December 2017 (win by 2-1, matchday 17). That was under the Antonio Conte era. The Italian coach even saw himself as a bit of an Ampadu. He too had made his professional debut at Lecce at the age of 16. One of the 50 best young players in world football, Ethan nevertheless struggled at Chelsea, who currently have him on loan at Sheffield United (29 matches, this season).
"Ethan has had it all. The right environment from a young age until he decided to leave (for Chelsea)," Perryman told Goal. "Why did he choose Wales over England? I think it depends on the environment they offered him," said the former sporting director of his parent club Exeter. "Ethan exudes confidence. He learned that at Exeter and from his father. He is also a hard worker. That's a sign of a great ability to cope with a lot of pressure. No game confuses him, I'll tell you that. I've seen him in tricky situations in matches. In bad weather, on bad pitches, against tough opponents," Perryman points out.
A red card that stalls his competition
Wales coach Ryan Giggs will not be able to count on Ethan Ampadu in the last 16. Ethan Ampadu was sent off in the last group match against Italy (1-0 defeat). It was in the 55th minute that he received his marching order. The Chelsea central defender went too hard into a duel with Federico Bernardeschi.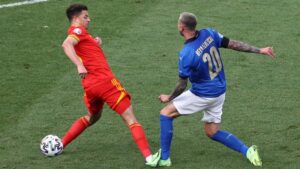 Ampadu became the youngest player in the history of the European Championship to receive a red card, at 20 years and 279 days. His history at this tournament could end on a sad note if Wales are eliminated in the last 16.
Philemon MBALE