Of the 624 players in the 24 Euro 2020 squads, some 60 could have played for 25 African teams. In the lot, the bi-nationals originating from the Democratic Republic of Congo are the strongest colony.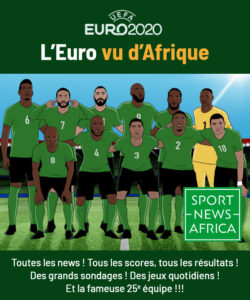 There are eleven of them. They will be defending the colors of four national teams at the Euros, even though they could have been playing for the same African country: the Democratic Republic of Congo (DRC). Switzerland's Jordan Lotomba and Denis Zakaria, Belgium's Dedryck Boyata, Youri Tielemans, Romelu Lukaku, Jason Denayer, Christian Benteke and Michy Batshuayi, Sweden's Ken Sema and France's Presnel Kimpembe and Steve Mandanda have chosen their country of birth or adoption over that of at least one of their parents as the country in which they will pursue their international careers.
If they had opted for the DRC, they would currently be under the command of Hector Cuper, the new coach of the Leopards. And probably, they would take part in the two friendly matches of the Congolese selection in June, against Tunisia (0-1) and Mali (tonight, Friday 11). They would also participate in September in the first day of group J (Benin, Madagascar, Tanzania and therefore DRC) of the 2022 World Cup qualifications. And, perhaps, in January-February, they will be brooding over the fact that their country will not be at the 2021 AFCON in Cameroon.
The group of "Congolese" of the Euro, comparable to the 25th team of the tournament, looks good. All the lines are well equipped: a world champion goalkeeper (Mandanda), five defenders with character (Denayer, Kimpembe, Lotomba, Boyata and Ken Sema), two promising young midfielders (Zakaria and Tielemans, both 24 years old ) and three experienced strikers weighing 95 goals (Benteke, Batshuayi and Lukaku). This would make for a very strong team for the DRC.
Unless the Swiss Lotomba and Zakaria had chosen, respectively, Angola and South Sudan, two other African countries from which they also come.
Philemon MBALE
THE ELEVEN "CONGOLESE" OF THE EURO 2021
Belgium
Dedryck Boyata (30, Hertha Berlin, 23 caps)
Youri Tielemans (24, Leicester, 39 caps, 4 goals)
Romelu Lukaku (28, Inter Milan, 92 caps, 57 goals)
Jason Denayer (25, Lyon, 25 caps, 1 goal)
Christian Benteke (30, Chrystal Palace, 39 caps, 16 goals)
Michy Batshuayi (27, Crystal Palace, 34 appearances, 22 goals)
France
Presnel Kimpembe (25, PSG, 15 caps)
Steve Mandanda (36, Marseille, 34 caps)
Sweden
Ken Sema (27, Watford, 12 caps)
Switzerland
Jordan Lotomba (22, Nice, 2 caps)
Denis Zakaria (24, M'Gladbach, 32 caps, 3 goals)
In this section, SNA presents you, throughout the first round of the Euro, the sixty or so players of the tournament who could have played for 25 African national teams.