Football - CAF Interclub Competitions: Fovu and Coton Sport to represent Cameroon
The Cameroon Football Federation (FECAFOOT) breaks the silence as to which clubs will represent Cameroon in the CAF Champions League and the CAF Confederation Cup 2021-2022 season.
A released dated August 11th 2021 clearly indicates that Fovu football club of Baham will represent Cameroon in next season's Champions League while Coton Sport of Garoua will play the Confederation Cup.
Both Fovu and Coton head their respective pools in the ongoing Elite championship which has seen a double forced break within the last quarter of the year. The championship is yet to run to it's end. This directly or indirectly means that the rest of the games which have not been played are just mere formalities since the representatives have already been designated.
Fecafoot's release does not mention who the champions of the season is. The text also made mention of the fact that both Fovu and Coton had played 15 matches in the topflight this season but Fovu has 30 points, 4 more than Coton, reason why Fovu gets the advantage of playing in the Champions League over Coton Sport.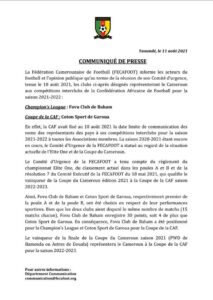 The text also stipulates that the winner of the Cup of Cameroon between Astre of Douala and PWD of Bamenda will represent Cameroon in the 2022-2023 CAF Confederation Cup. The date of the said finals is yet to be announced.
This decision of Fecafoot comes in as a result of pressure from CAF who had fix the date of August 10th as deadline for submission of CAF inter club representatives by the various football federations.
The release has stirred more doubts and confusion as whether the championship will run till it's slatted end. Which clubs will be relegated to the second tier and many other unanswered questions.
SNA in Cameroon