South African based goalkeeper Denis Masinde Onyango has announced his retirement from the Uganda Cranes.
Onyango, also the skipper of the Uganda national team sent his retirement letter to the President of the Federation of Uganda Football Associations (FUFA), Moses Hassim Magogo on April 12th.
"This letter represents my official notice of retirement from the Uganda National Team, The Cranes, effective April 12, 2021," said the letter.
Onyango said it has been a great pleasure and honor to represent Uganda. "I will always appreciate the experience and knowledge that I have gained while playing for the Cranes," said Onyango.
The goalkeeper who was part of the Uganda Cranes team at the 2017 AFCON in Gabon and 2019 AFCON in Egypt explained that his notice will give the Federation enough time to adequately prepare for his replacement for the upcoming matches.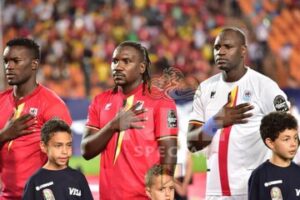 "By remaining a true patriot and supporter of football in my beloved country Uganda I wish you all the best in your future endeavors and challenges," stated the letter.
Few days ago another senior Uganda Cranes player Hassan Wasswa Mawanda also announced his retirement. Mawanda who had been Onyango's Vice captain said it was time to retire from the national team after 13 years of service.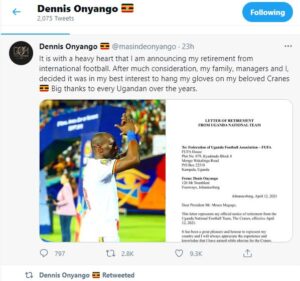 The development comes after Uganda failed to qualify for their third straight Africa Cup of Nations (AFCON) after they suffered a 1-0 loss away to Malawi in their last qualifying match few weeks ago.
Onyango's retirement comes just few days after his former Vice captain Hassan Wasswa also announced he hanging his boots from the national team.
Last week the Uganda FA President Moses Hassim Magogo during at interaction with the media called on all the senior players who want to retire to go ahead if they feel they cannot offer more.
But in his message relased today, the Uganda FA President says Onyango has been the best goalkeeper he has watched in the world.
"Another icon of Ugandan football draws the curtains to such an illustrious career with the Uganda Cranes. We have always been sure that there is Denis to carry the team when it needed the goalkeeper," stated Magogo.
The FUFA President said Onyango has been a great athlete, disciplined sportsman and patriotic footballer. "He has taken choice to retire and we should celebrate him for the hard decision. If you asked me, he is one of those few players that should have stayed forever but we have to accept that players come and go. It is just human," added Magogo who wished the goalkeeper the best of the rest his athletic football career and hoped the game retains him to serve it in different capacities.
Uganda Cranes will now start a new chapter without Onyango and Wasswa Mawanda in June in the 2022 FIFA World Cup Group qualifier campaign. Uganda Cranes are placed in Group E alongside Kenya, Rwanda and Mali.
Andrew Jackson ORYADA snr