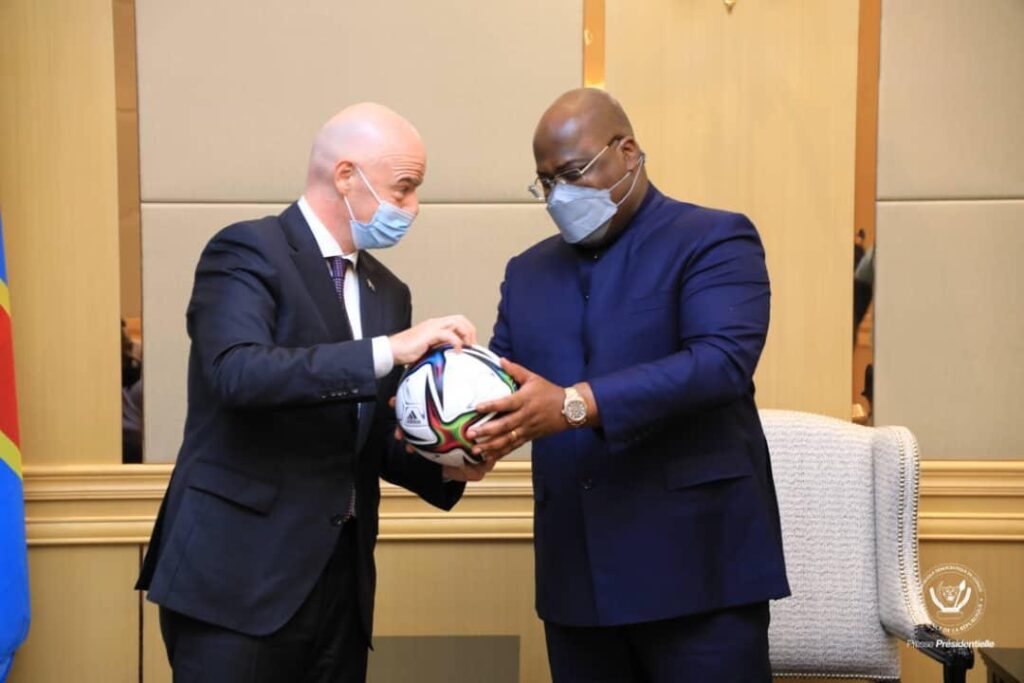 In an exclusive setting in Kinshasa on Saturday February 20th, 2021, Sportnewsafrica.com seeks to find out the underlying reasons behind Infantino's current visits to Africa.
SNA: Q1: What justified the DRC being chosen as a pilot country in this vast inter-school tournament project?
FIFA President: When we discussed this matter on the zoom meeting we had last week, the motivation of the President of the Democratic Republic of Congo, Félix Tshisekedi, who is also the current Chairperson of the African Union, was a massive factor in the decision. We immediately organized a meeting in person and I am delighted that we were able to sign the protocol soon after. President Tshisekedi is passionate about football so I'm delighted that we can work together to give hope to all children in Africa through football, because football brings hope.
SNA: Q2: How does FIFA intend to export this project throughout Africa?
FIFA President: FIFA will work in close partnership with the African Union and with CAF in order to deliver this project. And when I say FIFA will work, I can tell you that FIFA is on the ground in Africa. Back in 2017, FIFA took the decision to establish FIFA Regional Development Offices around the world in order to better serve its member associations and to be closer to their needs. Four of these offices are located in Africa: Dakar in Senegal, Johannesburg in South Africa, Brazzaville in the Republic of the Congo and Kigali in Rwanda. Of course we also rely on the governments and our member association's cooperation to make this project a huge success.
SNA: Q3: With regard to sports infrastructures, how does FIFA plan to enable young people to learn and practice football in good conditions?
FIFA President: We have two initiatives to make this happen. Firstly, there is the FIFA Forward program, which is helping football across each of our member associations with a focus in four areas: infrastructure, competitions, development and education. This program is being run through the four FIFA Regional Development Offices and our staff there will provide the necessary support.
Secondly, via the FIFA Foundation, there is the Football for Schools project. Football is a school of life – it is more than a sport. Through football we can convey a message of tolerance, unity, respect, fair play and other positive values so important in today's society. We want to plant those seeds at school level and let children grow with those values into adulthood. Football has that power.
SNA: Q4: With what financial means will FIFA succeed in this great mission in Africa?
FIFA President: FIFA is supporting various projects through the FIFA Forward program, and I expect it to be to the forefront here, together with the resources that are provided by the FIFA Foundation through Football for Schools. Since i arrived in Fifa we multiplied by five the investments we are doing in our member associations. We distribute up to 1.5M usd every year to each of our 211 member associations. This is a very significant effort and in some countries it make make a real difference.
SNA: Q5: What are your impressions after your African tour so far?
FIFA President:
I am always delighted to visit Africa where the passion for football is felt so intensely. FIFA is at the service of its member associations and the main purpose of this trip has been to listen to those we have visited. We shouldn't forget that the African continent, like the whole world, has been severely impacted by COVID-19 and it is very important for FIFA to be close to the African football community in the current circumstances.
On one hand, it has been very rewarding to see how the FIFA Forward Program is having a very positive impact in Africa, such as at Mauritania's new Stade Municipal de Nouadhibou, which is a venue at the current CAF U-20 Africa Cup of Nations.
On the other hand, we also had the opportunity to inaugurate the FIFA Regional Development Offices in Kigali and Brazzaville, which will be of great help to take football development to the next level in Africa.
Lastly, it is important to highlight that the political authorities in all countries we have visited see football as a tool for social development, education and peace. I noticed a great sense of commitment by all of them, which is of course absolutely crucial. This is further supported by the Memorandum of Understanding that FIFA has with the African Union, and we intend to put this to work in the years ahead.
Philemon Mbale.