Match day 2 of the MTN Elite One had some absolute shockers that included newcomers Gazelle, defeating Les Astres Football Club by a three goals to one margin in group B, at the reunification annex stadium.
Meanwhile, at the state of the art, Bepanda Omnisport stadium, few meters away, Union Sportif of Douala held their nerve to leapfrog Yong Sports Academy 2-1, with particularly Roche Foning getting a double on the day.
Bamboutos FC of Mbouda continued its nice run of form with a 2-0 victory against YAFOOT, while Fovu club of Baham managed a slender 2-1 victory over Dragon FC.
Most goals of the match day came in the Fauve Azur - Apejes encounter (2-2). The game had a lot of headline making events that included; the come back and first goal of the season for Apam Bemol.
In pool B, Colombe struck twice to quench the 'PWD fire', in a game hotly contested, which saw two red cards issued at either ends of the field for both sides.
UMS and Aigle Royal cancelled each other out, likewise Renaissance - Stade Renard.
Cotonsport of Garoua had their game against Eding FC postponed, and then, Canon was perked back by Avion Academy in their one-all draw.
Busy weekend for all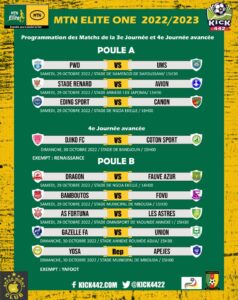 Match day 3 starts on Saturday, October 29, with 2020 champions, PWD taking on 2-time Elite One champions - UMS, at the Bamendzi stadium at 3:30.
Stade Renard, already on four points will look to lay down a marker in the group when Avion Academy arrives the Japoma Annex 1 stadium at 3:30, and Canon Yaounde will go in the hunt for its first win against Eding Sport - 4 pm, at the Ngoa Ekelle stadium.
Meanwhile, in group B, Bamboutos will look to continue on a fine footing against Fovu club, who themselves are on a high at this point, at the Mbouda Municipal Stadium (3:30 pm)
At the Omnisport annex stadium in yaounde, AS Fortuna log horns with Les Astres FC at 3:30 pm at the Omnisport annex 1 stadium.
Ngoa Ekelle will play host to Dragon - Fauve Azur at 2 pm.
Three other games will follow on Sunday October 30.
Gazelle returns for its first home outing against Union Sportif of Douala at the Annex Roumde Adjia stadium at 3:30.
At the Mbouda Municipal Stadium, YOSA will look to start changing its fortunes when Apejes comes visiting at 3:00 pm.
In Bandjoun, Cotonsport takes on Djiko FC in an advanced match day 4 encounter at 3:00 pm.
Renaissance (group A) and YAFOOT (group B) are both exempted from hostilities this match day 3.