Clearly there are no shortage of top European clubs who will be willing to break the banks for the signature of the former Arsenal captain Pierre Aubameyang. The player has been linked with a move away from Arsenal, with the Gabonese striker already in the sights of a top European club.
Pierre-Emerick Aubameyang is no longer part of Mikel Arteta's plans as evident in recent happenings at the club. The Gabon international has been dropped from the Gunners' squad for a number of weeks and has also seen the club's captain's armband taken away from him. Pierre-Emerick Aubameyang is thus experiencing a complicated situation at the London club. It may even be the worst of his career. It's not just a matter of the player leaving the club, but also of his contract expiring in June 2023, a long time for him to remain in misery at the Emirate Stadium.
The former Dortmund striker would not lack candidates in case of an eminent departure away from the Emirate stadium. The 32-year-old, who has scored four goals in 14 Premier League games this season, has been linked with a number of top European clubs. Juventus, for example, are still very interested in the player, according to Tuttosport.
The Italian daily reports that while there is no question of a formal offer from the Old Lady for the former Saint Etiene man, he is one of the players being monitored to strengthen the attack at a rather reasonable price.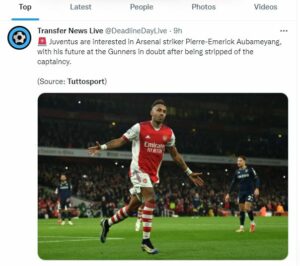 The most likely deal would be a six-month loan, with a decision to be made at the end of the season. The same applies to players like Mauro Icardi and Edinson Cavani, who are also on the club's wish list. The future will tell us more. Aubameyang since arriving at Arsenal has been top scorer of the English top flight in 2019 season as he scored 22 goals alongside Salah and Mane of Liverpool. He also led the side to winning the 2020 FA cup for the 14th time.