Andre Onana will no longer play for the Cameroon national team. The Inter Milan goalkeeper has just retired from international football. The announcement was made on his Twitter page this Friday morning.
A lot of water under the bridge concerning the World Cup saga peating Cameroon's coach Rigobert Song and keeper Andre Onana. The two fell apart on the eve of Cameroon's second group game in Qatar against Serbia. The first choice keeper for the Lions was asked to leave the team's base in Qatar owing to disciplinary acts by the player according a FECAFOOT press release. After that neither did the coach nor the player wished to officially make utterations concerning the incident after the competition ended on December 18.
"Every story, no matter how beautiful it is, has an end. And my story in the national team of Cameroon has ended. Players come and go, names are ephemeral, but Cameroon comes before any person or player. Cameroon is eternal. Also eternal is my love for the national team and for our people who have always supported us, no matter how difficult the moment," wrote Andre Onana.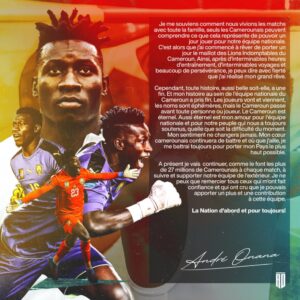 André Onana and Cameroon, it is 34 selections. From now on, the Barcelona-trained goalkeeper will "continue, as do the more than 27 million Cameroonians at each match, to follow and support our team from outside. I can only thank all those who trusted me and believed that I could bring something more and contribute to this team".
Mixed reactions especially on social media as many Cameroonians still feel the Inter Milan keeper still has a lot to offer with the national team.