Cameroon - Interpools 2023: FECAFOOT changes competition rules in disfavor of clubs
In Cameroon, the national interpools, a special competition that will determine which two clubs from the regional leagues will get promoted into the national Elite 2 has smoothly completed its group phase with four teams ready to take on the final sprint into the semi finals. Recent FECAFOOT programming for the semis has left many more doubts amidst possible match fixing scandals.
As per the original pairings published by fecafoot on June 22nd 2023 prior to the start of the Interpools, the first in group A should be paired with the second in group B, in this case ISOHSA vs POUMA FC as the first game for the semis while Bafmeng FC (group B winners) would definitely take on Volcan du Noun. As in every competition standards group A leaders takes on group B runners up. But recent publications by FECAFOOT seems to have intentionally switched the pairings, asking the first of group B Bafmeng to play against the runners up of group A, Volcan de Noun in the first semi finals.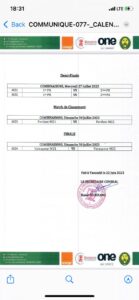 Original fixtures published by FECAFOOT prior to Interpools kickoff
Could there be a reason behind this blatant switch?
Inferring from recent reports about match fixing accusations hovering around FECAFOOT and its president Samuel Etoo, it is decenable as per rumours that Pouma FC, a team from the Littoral Region of Cameroon which has some underneath ties with president Samuel Eto'o, is to be favored to guarantee qualification into the finals, thus automatic qualifications to the Elite 2. Critics judge it that the games were switched on purpose not to give room for two teams from the English speaking regions ie ISOHSA from Limbe and Bafmeng FC from Bamenda to qualify for the finals.
Another school of thought holds that in the brought forward game, in case Bafmeng sails through Volcan de Noun which is a more likely scene (given that the latter is not only a representative from the West Region but also from the locality were the former FECAFOOT boss Seidou Mbombo Njoya hails from), ISOHSA will be sacrificed in favour of Pouma FC in the second game.
Information reaching our editorial desk says some of the teams have openly questioned FECAFOOT's decision to switch the games and have even threatened not to play the semi finals come Thursday in case the decision is upheld.
ISOHSA, the South West representatives at the interpools have been receiving support both financial and moral, from some top government officials as well as Chiefs and Elites in Yaounde who have also promised to troop into the stadium come Thursday in support of their representative.