The European leagues are at the halfway point. This is an opportunity to take a look at the African revelations of this early season. A choice relatively focused on the offensive with several goal scorers who flare up.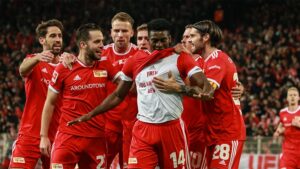 Taiwo Awoniyi
The German league is full of strikers. Robert Lewandowski, Erling Haaland, Patrick Schick, Andre Silva... But the one who has emerged this season is none other than Taiwo Awoniyi. The 24-year-old Nigerian has been a star performer for Union Berlin this season. He has already scored 12 goals in 25 games this season. In the Bundesliga, he has 9 goals to his name. This places him among the top scorers in the league. However, he is still a long way from the leader, Poland's Robert Lewandoswki.
What is most impressive is that he is already better than last season at the halfway point. He played 22 matches and scored 5 goals during the whole season. Proof that the Liverpool-trained player is finally finding consistency after having moved around a lot in his young career. He has already played for 7 clubs (Liverpool, Frankfurt, NEC Nijmegen, RE Mouscron, La Gantoise, Mainz and Union Berlin).
Thanks to his revelation of this first half of the season, Union Berlin is in 7th place with 27 points.
Mohamed Bayo
Many of Ligue 2's top scorers miss the learning curve in Ligue 1. Last season's top scorer in Ligue 2 with Clermont, Mohamed Bayo is one of the revelations of this Ligue 1 season. The Guinean striker has established himself as one of the league's terrorists. He has already scored nine goals and provided two assists halfway through the season. He is also the third best striker in Ligue 1 behind Jonathan David (Lille, 12 goals) and Ben Yedder (Monaco, 10 goals). If Clermont (16th, 17 pts) hope to maintain their position, they will inevitably rely on Mohamed Bayo.
His performances have also opened the doors to the Syli de Guinée. In four caps, he scored two goals for Guinea. There is no doubt that he will be one of the spearheads of his selection for the African Cup in Cameroon.
Assan Torrez Ceesay
17 games played, 11 goals and 5 assists. Assan Ceesay is carrying Zurich this season in the Swiss league. The Gambian is literally walking on water. With the same team, he scored only 2 goals in 32 games last season. Thanks to his Gambian revelation, Zurich is leading the league after 178 games. The club has 43 points, 7 more than the next best team.
This bodes well for Gambia. The country is about to play its first African Cup of Nations. And with Assan Ceesay at this level, they can hope to spring a surprise.
Emmanuel Dennis
In his first season in the Premier League, Emmanuel Dennis is making his mark. With Watford, he has already scored 7 goals and provided 5 assists in 15 league games. With 12 goals, he is simply the second most decisive player in England behind the untouchable Mohamed Salah (15 goals and 9 assists).
Emmanuel Deennis' versatility is also a great asset. He can play on all fronts of the attack. Watford will need him to move up from 17th place in the league.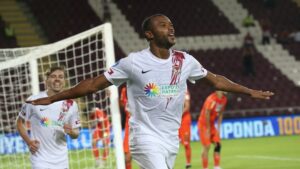 Ayoub El Kaabi
Many have been waiting for him in Europe for several years, the Moroccan has finally decided to take the plunge in 2021. Ayoup El Kaabi, the Moroccan international, has signed for Hatayspor in Turkey. And so far, he is doing quite well. The player is indeed one of the top scorers in the Turkish league with 7 goals. He is only three behind the leader of this ranking.
The 28-year-old and his team are in 6th place with 29 points. They are far behind the leader Trabzonspor (45 pts). Hatayspor will have to find a way to play without him as he will be at the CAN with Morocco in January.