On TuesdayFIFA unveiled the different base camps and training grounds of the 32 nations that will take part in the 2022 World Cup. The end of a long process of inspection, which will see all the teams in the running lodge close to each other and not need flights to reach the different places of matches.
After a process that will have required no less than 162 visits and that began in 2019, FIFA has finally validated the final base camps of the 32 selections in the running for the 2022 World Cup. And, as a great novelty, all the teams will be able to stay in the same facilities throughout the tournament for the simple reason that, given the organization of the cities in Qatar, no domestic flights will be necessary to get to the different sites. Another aspect of this World Cup, which is not really like any other given its periodicity, is that 24 of the 32 competing nations will be housed within a radius of only 10km.
"This concentration is an undeniable plus for the atmosphere of the event in and around Doha, as well as for local and international fans," FIFA said in a statement. The qualified nations for the 2022 World Cup will be expected to arrive in Qatar at least five days before the start of the tournament and will stay there for at least two weeks to play the group stage. Cameroon, Ghana, Morocco, Senegal and Tunisia which are the African representatives for this edition will all be based in Doha, but in different structures, which will have the same technical specificities.
Each base camp combines a training site with accommodation in the immediate vicinity. Three types of training sites will be used during the 2022 World Cup: those of local clubs, grouped training sites and stadiums. "Accommodation facilities include four- and five-star hotels, villas, resorts or non-hotel accommodation, including sports academy residences or school/university accommodation. In addition to facilities such as treatment rooms, teams will have common areas for their exclusive use in order to maintain their privacy while meeting the elaborate security protocols," FIFA said.
The different sites and base camps can be viewed here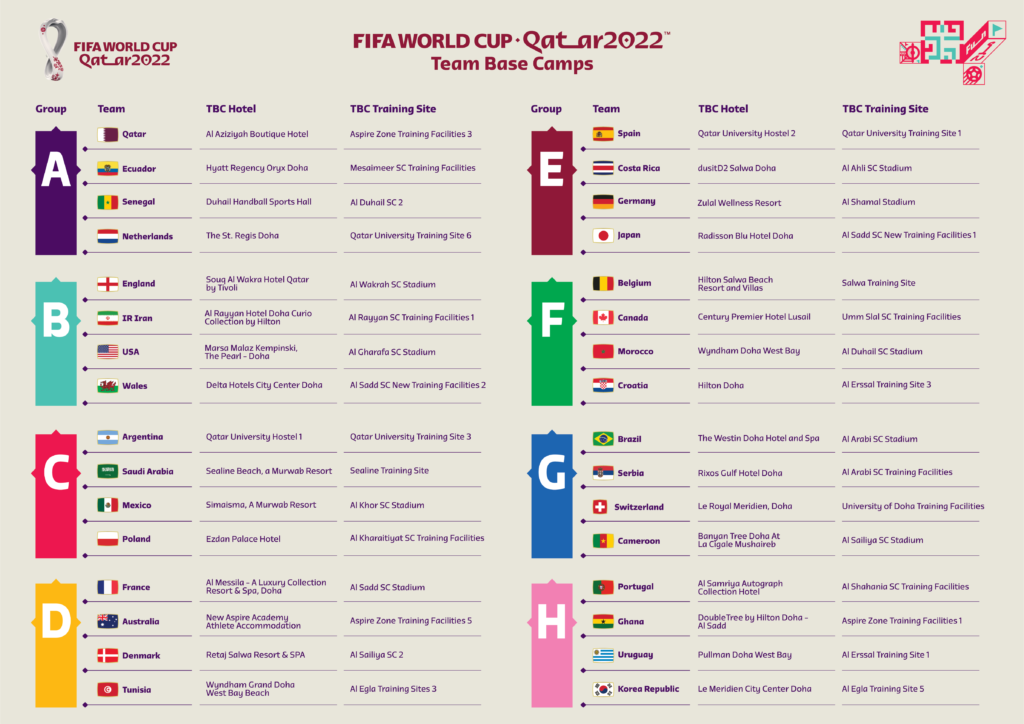 The base camps of the African selections
Senegal: Duhal Handball Sports Hall / Training: Al Duhail SC 2
Tunisia: Wyndham Grand Doha West Bay Beach / Training : Al Egla training site 3
Morocco : Wyndham Doha West Bay Beach / Training : Al Duhail SC Stadium
Cameroon: Banyan Tree, Doha At La Cigale Mushaireb / Training: Al Sailya SC Stadium
Ghana: Double Tree by Hilton Doha - Al Saad / Training : Aspire Zone training facilities 1